Subscribe via
RSS Feed
|
ShareThis
Posted: 03/16/2015 Category: Industry News,
ShareThis Article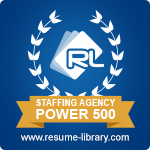 What an achievement!
The Ropella Group recently climbed to position #331 on the Staffing Agency Power 500 List in early March.
The recruiting and staffing leaderboard is created by firms who are active on social media as scored by Klout. Various metrics are used to determine the score, including social influence, recognition, engagement, and followership. To find The Ropella Group and Ropella Experts on social media, visit the following links and "like," follow, or subscribe to all of the Ropella accounts.
Ropella Group
Ropella Experts